Introduction
Conquest Era
This class covers the entire book of Joshua in sixteen lessons. The book of Joshua is one of my favorites because it is like the ultimate guidebook for Christian living. Joshua was an amazing man of integrity and faith. He first appeared in Exodus as a servant leader, then his stories are also in Leviticus, Numbers, and Deuteronomy, and the book of Joshua. Joshua's attributes are an example of faithfulness in any situation, especially to us battling today's unique problems.
Joshua's bold and courageous life of victory can motivate us today to a life lived in the passionate pursuit of our Lord! Joshua is a role model worthy of the name, towering head and shoulders above his contemporaries, not in physical stature, but in spiritual character. The lessons in the class about his life and times are for inspiring people to follow in his footsteps.
It had been decades since God promised Abraham and his descendants the land of Canaan. The moment had finally arrived. The Lord brought his people to their promised inheritance, accompanied by Joshua, God's new leader. In the book of Joshua, we discover compelling reminders of what God taught his people about himself and what it means to be a citizen of his kingdom.
Conquest Lessons
As we read through Joshua, we will Bible journal the main people, major events, and a bit of geography. Beyond the history lessons, we will look at how you can apply the spiritual truths from the Bible stories into your life today.
This is a self-paced course. Sixteen lessons are presented over a thirty-day period (with weekends to catch up) but you have forever access to the class. You can share your work in the Facebook group at any time from any class. The schedule shows when the class will be posted, but you can complete the lesson and/or the journaling at your convenience.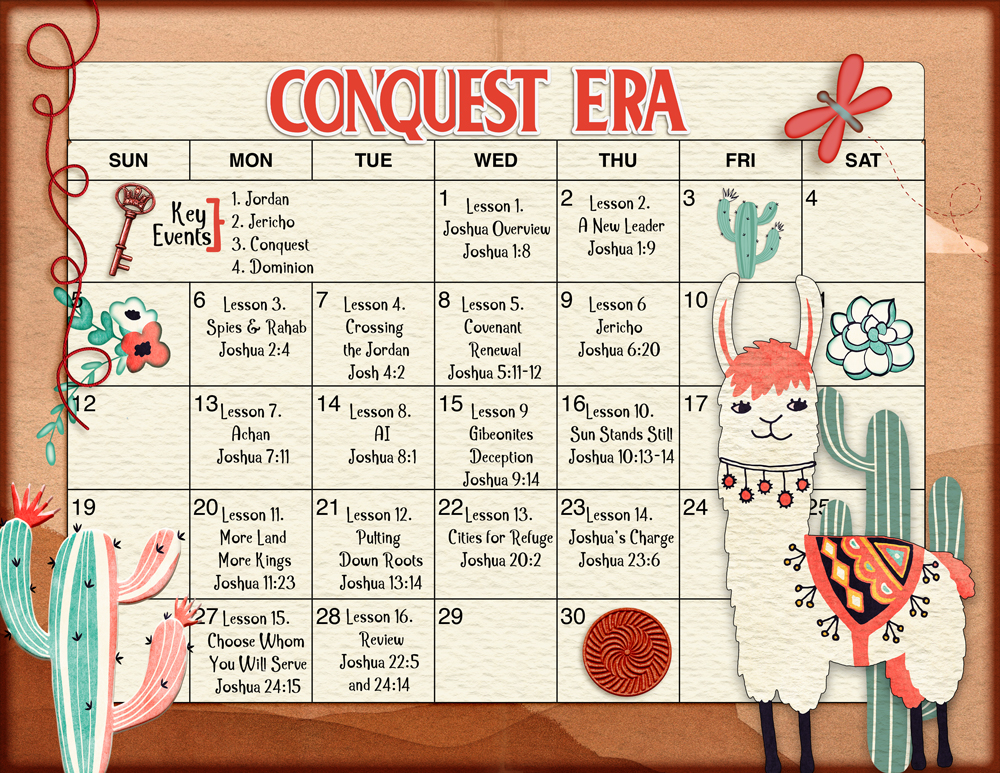 You can Bible journal in your Bible, in a notebook, in a junk journal (once you add scripture it becomes a Treasure Journal), or Memory Dex Cards. This will be explained more in the class.
Here are some pages from the last class. You will receive Bible journaling ideas for this class in every lesson.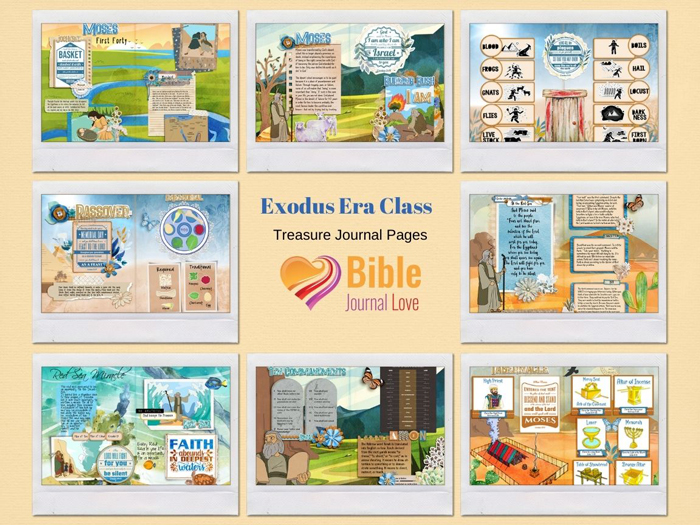 PLUS Suprise Class Freebies Every Week!
These freebies are surprises to motivate you to keep up with your studies, so I won't show them but you can get an idea from the Exodus class what they will be like.
There are four main events in the Conquest Era:
Jordan
Jericho
Conquest
Dominion
Lesson Posting Schedule
Download the posting schedule at the bottom of this page. Follow along with others in the Facebook Group.
Sample Portfolio
Debbi shares her adorable work from this class in this video
robinsampson_conquest_era_schedule.pdf
Complete and Continue