Lesson 4. Love Bears All Things
Love Bears All Things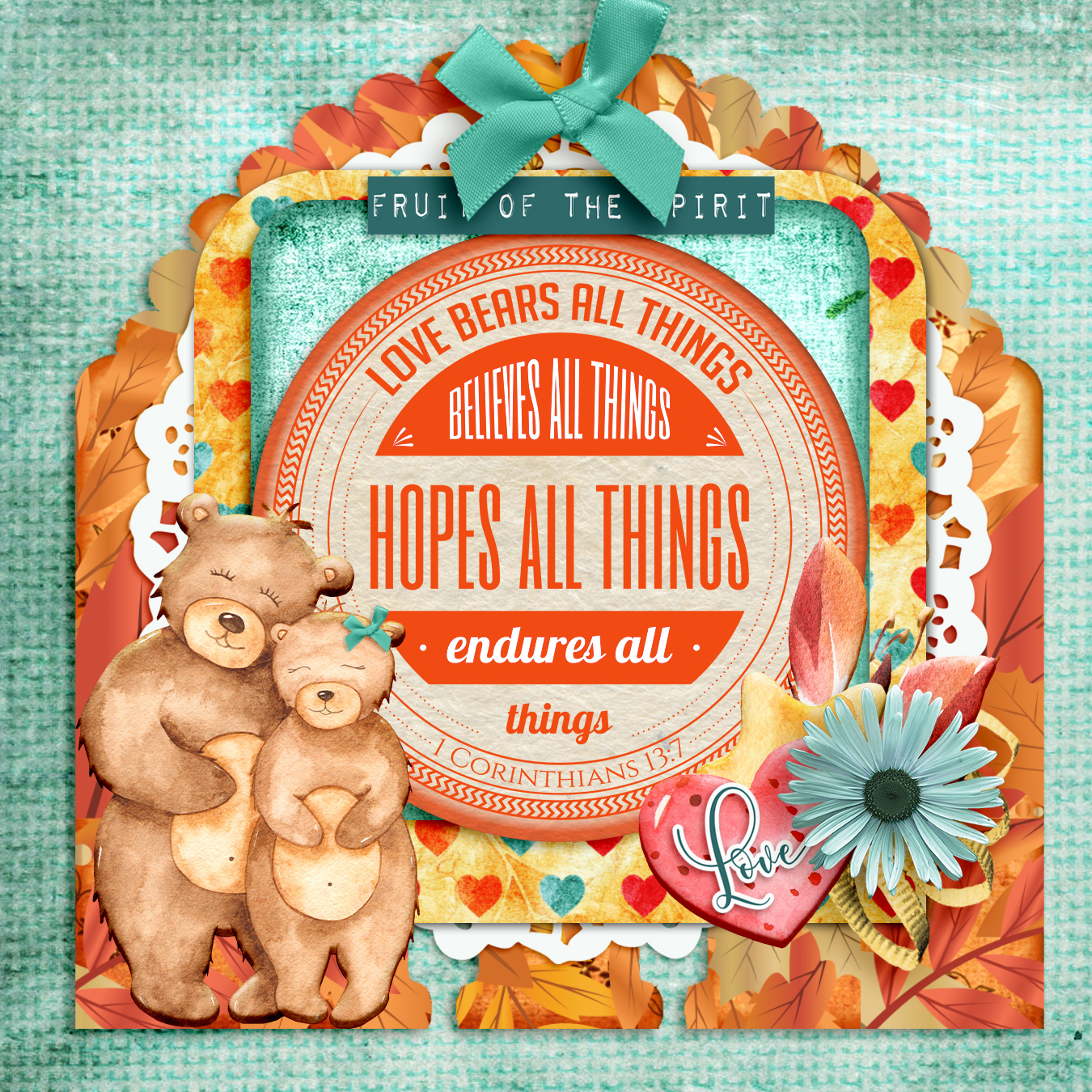 Love is patient and kind; love does not envy or boast; it is not arrogant  or rude. It does not insist on its own way; it is not irritable or resentful; it does not rejoice at wrongdoing, but rejoices with the truth. Love bears all things, believes all things, hopes all things, endures all things. 1 Corinthians 13:4–7
Love is a evidence of a true Christian. It is how we care for one another and it is how we might attract someone to Christ.
By trusting God, through Christ we are transformed by love and indwelt by the Holy Spirit, which produces the fruit of the spirit. "...love comes from God. Everyone who loves has been born of God and knows God. Whoever does not love does not know God, because God is love….Whoever lives in love lives in God, and God in him….We love because He first loved us" (1 Jn.4:7b,8,16b,19).
God has provided us with the tools (repentance, prayer, his Word) we need to break free by gaining an understanding and by trusting him. As you turn your troubles over to him you can feel safe, secure, and loved. A relationship with God is meant to be a love affair of the heart—between father and child. John said, "We love because he first loved us" (4:19).
John Newton, the author of the song Amazing Grace, was the captain of a slave trading ship. After a life-changing experience with Christ he wrote,  "The love of God, as manifested in Jesus Christ, is what I would wish to be the abiding object of my contemplation; not merely to speculate upon it as a doctrine, but so to feel it, and my own interest in it, as to have my heart filled with its effects, and transformed into its resemblance; that, with this glorious Exemplar in my view, I may be animated to a spirit of benevolence, love, and compassion, to all around me; that my love may be primarily fixed upon him who has so loved me, and then, for his sake, diffused to all his children, and to all his creatures."
Jesus is the great exemplar! He showed us how to love.
We Love by Abiding in His Love
"I am the true vine, and my Father is the vinedresser. Every branch in me that does not bear fruit, he takes away; and every branch that bears fruit, he prunes it so that it may bear more fruit. You are already clean because of the word which I have spoken to you. Abide in me, and I in you. As the branch cannot bear fruit of itself unless it abides in the vine, so neither can you unless you abide in me.  I am the vine, you are the branches; he who abides in me and I in him, he bears much fruit, for apart from me you can do nothing. If anyone does not abide in me, he is thrown away as a branch and dries up; and they gather them, and cast them into the fire and they are burned. If you abide in me, and my words abide in you, ask whatever you wish, and it will be done for you. My Father is glorified by this, that you bear much fruit, and so prove to be my disciples. Just as the Father has loved me, I have also loved you; abide in my love.
If you keep my commandments, you will abide in my love; just as I have kept my Father's commandments and abide in his love.  These things I have spoken to you so that my joy may be in you, and that your joy may be made full.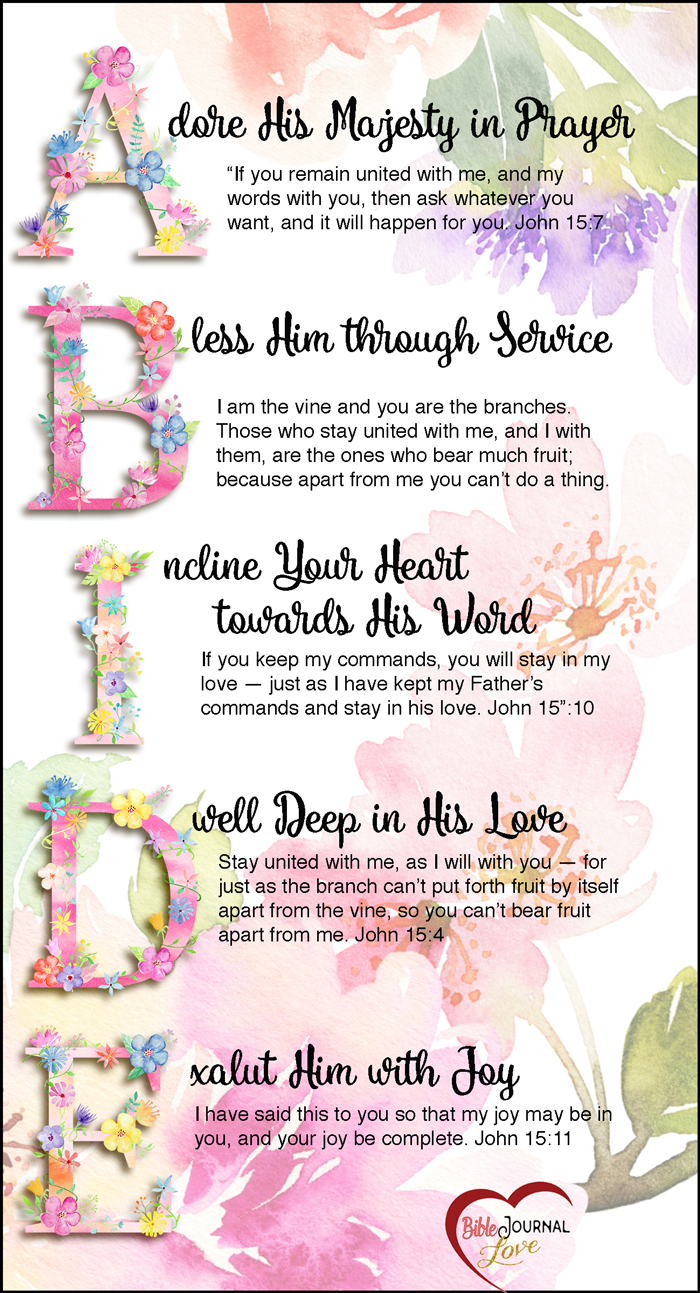 When you abide in the Vine you have this wonderful promise "If you abide in me, and my words abide in you, you will ask what you desire, and it shall be done for you." John 15:7.
Whatever you desire—but not the self-centered sin-nature desires of a branch without the Vine. When the Vine conditions and controls a believer's mind, his prayers conform to the Vinedresser's will. By allowing his Word to abide in us—to become part of our thinking and our standard for life—we will desire his plan, his righteousness. Be a branch and your life will be pointed in the right direction.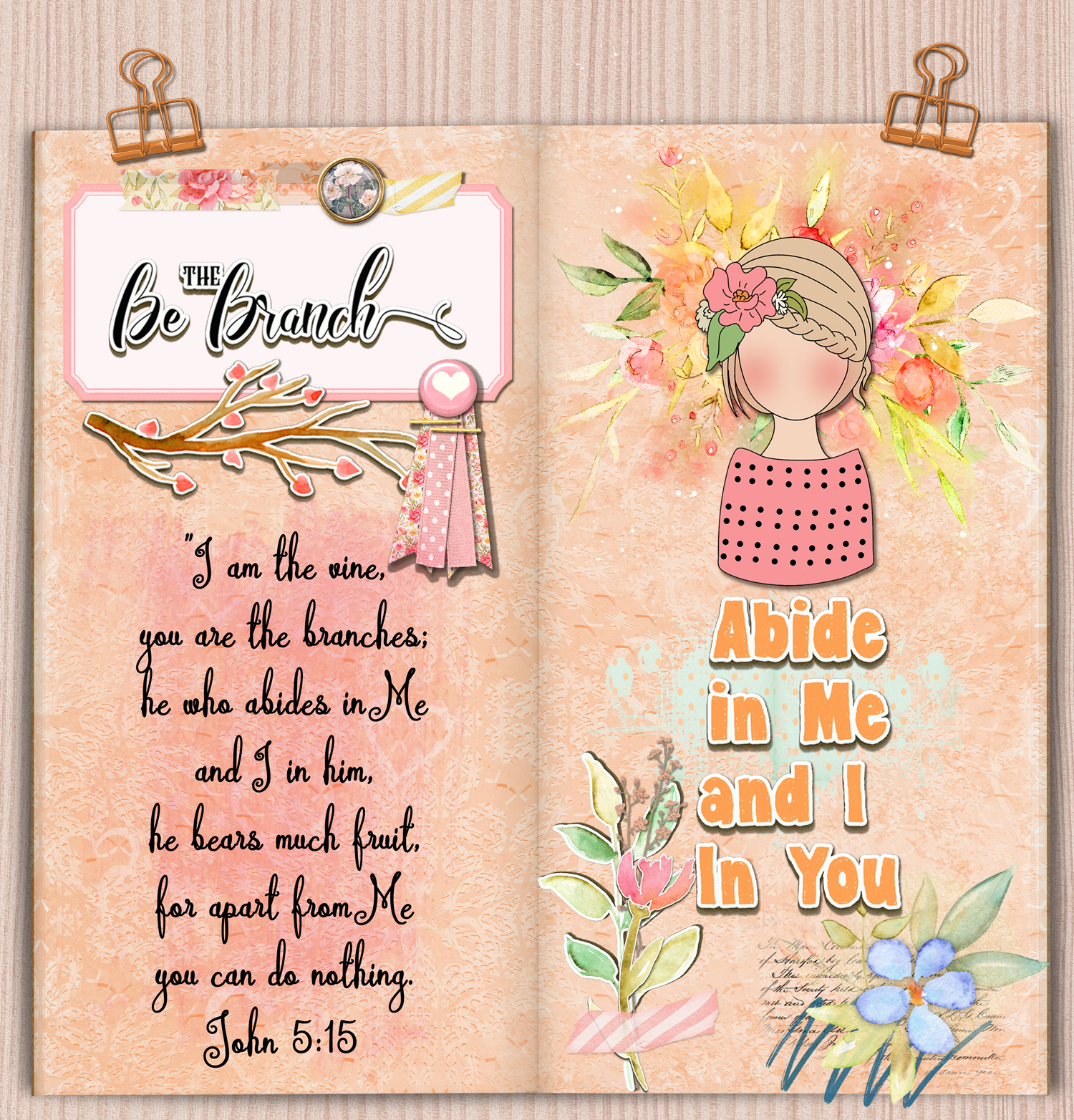 Branches are Weak!
Believers, like the branches of the vine, are weak, and insufficient to stand of themselves. (Matthew Henry) Apart from the work of Christ through the Holy Spirit, we cannot live the Christian life. Each of us is to yield to the Vine moment by moment, allowing him to achieve through us the work that the Vinedresser wants accomplished in our life. (Ephesians 2:10). We maintain our communion with the Vine by praying (v. 7), obeying the Vinedresser's commandments (v. 10), and keeping our lives clean through his Word (3–4).
A Branch Without the Vine
"If anyone does not remain in me, he is like a branch that is thrown away and withers; such branches are picked up, thrown into the fire and burned."
A life without the Vine experiences frustration, discontent, and guilt and eventually death—permanent separation from the living Vine. There are some in our churches with unfruitful branches. They are either too immature (need to abide in the Vine to grow to produce fruit) or they are not true believers. Those who depend on religion are doing what they believe is good in their own efforts, like Cain with the wrong motivation.
By default we walk in our flesh. It is human nature to be selfish. We focus on self instead of the Vinedresser; but even then the Vinedresser gives us the ability to abide in the strength-giving Vine.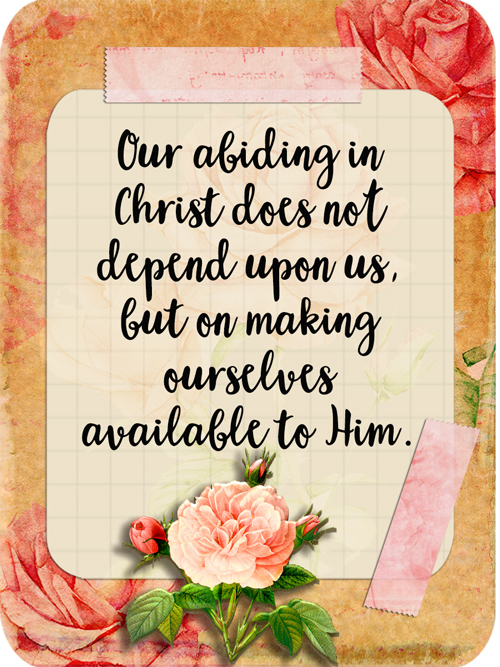 How to Bear Fruit
Wayne Jacobsen shares how Jesus tells the story of his Father's vineyard in the middle of his upper room discourse. He is talking about the nature of the relationship that he, the Father, and the Spirit want to have with each other and with each of us. Learning to live in him is not as easy as following a set of guidelines or practicing a daily or weekly ritual.
Most of us live as if God doesn't love us until we jump through enough hoops to merit his blessing. We try in our own strength to earn his approval by doing the things we have been taught he expects of us, nut you will find that the harder you try, the more you'll lose sight of him, and in the end you'll end up more proud of your accomplishments than you are aware of him.
I encourage you to wake up every morning and ask God to make himself known to you. I pray that prayer often. Then I go through my day looking for ways God impresses his heart on mine—the things he wants to show me and the ways he wants me to treat others. I find myself increasingly ruminating on what God might think of what I'm involved in and what his heart might be in the decisions I face. This is the conversation. It's an ongoing meditation that becomes clearer over time.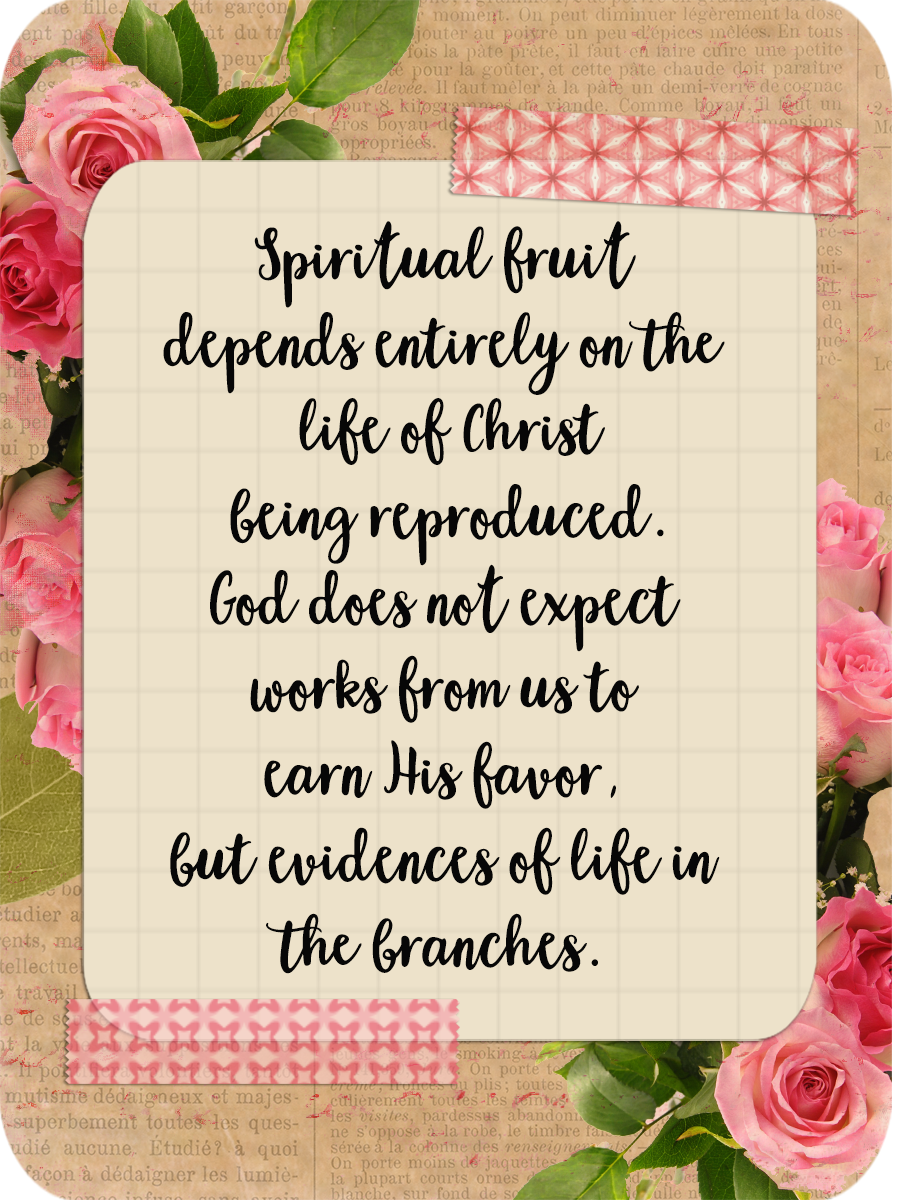 Knowing him goes on at a heart level that defies all attempts to standardize it. It isn't so much that we have to build a relationship with him as it is for us to respond to the way he's building one with us, so instead of working through a list of disciplines, it might be better just to open our hearts to him and ask him to show us how he wants to relate to us.
It helps to focus our attention on him throughout our day, whether we're driving somewhere or pausing between appointments at work. I keep questions and doubts before him and reflect on them, looking for the tidbits of wisdom or inklings of insight he gives me. How does God engage that conversation? He makes his thoughts known as I'm looking for them. That happens as I go for a walk to pray and listen to him, read the scriptures, or engage in conversations with others.
As that conversation grows I become more aware of him, more sensitive to the impressions he puts on my mind, and more loving to the people around me. This is the renewing of our mind that gives us a way to live in him that will transcend spring. It will untwist the thought patterns that have distorted our lives with feelings of self-loathing or self-exaltation. We will lose confidence in our efforts and agendas and become more at rest in his unfolding revelation. We'll find ourselves living differently than we used to—less manipulative of people, and more caring.
This is the essence of what it means to abide, or dwell in him. It is to engage him and his wisdom in ever-increasing ways in our lives. It is not a matter of learning a set of principles. Don't rush it. Growing into this kind of conversation takes time and happens far more at a heart level than in our minds.
It doesn't happen by changing our actions to conform to God's desires, but by getting to know him so well that we think differently. As we think differently, we will live differently.1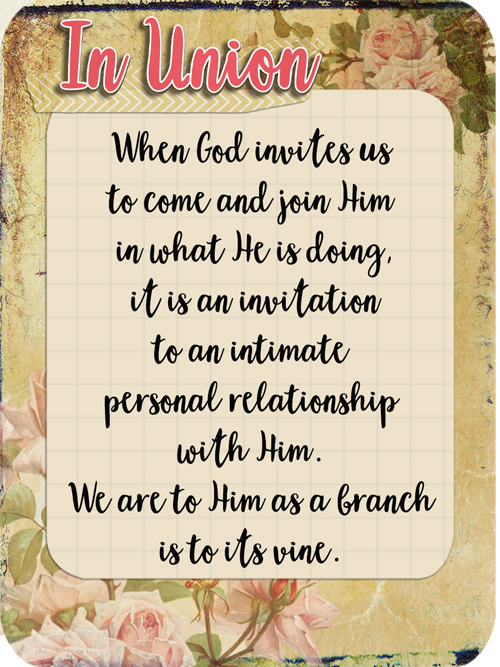 Abide and Bear Fruit
 "They who seek the LORD shall not be in want of any good thing" (Psalm 34:10)
What is a good thing? The Bible defines the "good thing" very differently as the sovereignty, justice, righteousness, and love of God! Goodness is the character and being of God. God has no selfishness. Our Vinedresser is always giving—our lives, mercy, grace, love—he gives us the Vine.
Seek God though prayer and Bible study. Nothing else in life will change your life the way the living Vine will. Only through the Vine's nourishment can we dwell and to walk in love. Love will conquer our selfishness. Be a branch and the Vine will give you the indwelling power to be self-sacrificing, to overcome sin and unbelief, and produce good fruit.
For every tree is known by its own fruit. For men do not gather figs from thorn bushes, nor do they gather grapes from a bramble bush (Luke 6:44)