Introduction
December Daily 31 Titles of Christ

In this class we are examining thirty-one titles of Christ for the month of December.
Jesus' name is more powerful than anything in Heaven and Earth. We know him as Jesus, but he was born with the Hebrew name Yeshua. Yeshua is the name his mother and others called him. His name has been translated into other names, with "Jesus" probably being the most recognized.
When Jesus was here on Earth, as a Jew, he more than likely recited aloud the Shema from Deuteronomy 6:4–9. it is the most fundamental belief and commitment of Judaism and the first prayer a Jewish child learns.
"Hear, O Israel: The LORD our God, the LORD is one. You shall love the LORD your God with all your heart and with all your soul and with all your might. And these words that I command you today shall be on your heart. You shall teach them diligently to your children, and shall talk of them when you sit in your house, and when you walk by the way, and when you lie down, and when you rise. You shall bind them as a sign on your hand, and they shall be as frontlets between your eyes. You shall write them on the doorposts of your house and on your gates.
What a great great way to start each day acknowledging and worshiping God. As we look at titles of Jesus each day, we are worshipping God and learning about Jesus's character—the character we want to emulate.
Study of God's Word in order to mold one's lifestyle to that Word is also worship in the truest sense of the English word worship, which means to "ascribe worth to." When we fully submit our lives to God's Word, when we study what he has said with complete devotion and intensity, we do, indeed, ascribe worth to him: we worship him. (Dr. John Garr, Study is the Highest from of Worship)
God is always available and looking forward to time with you. Your seeking is the catalyst; creating the Bible journaling (in any method) fans the flame to help you grow in your relationship with Yeshua, your Lord, your Christ, and your God.
Cherish this time! Learn and grow and pour out his love to others.
So Many Names!
Why does God have so many names? We all have many names, when you think about it. Our names depend on who is talking to us and when.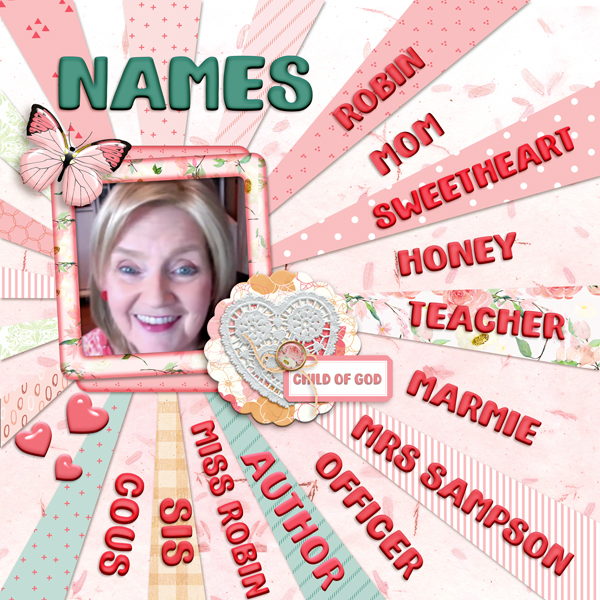 Oh how I miss hearing my grandmother's singsong voice when she came down the hallway to wake me in the morning. She sang out "Robin" or "Sweetheart" so that each name had extra long syllables that were full of love.
My mother called me "Lit' Bit" unless she was really angry with me; then she shouted, "Robin Renee!" My hubby and I call each other Honey. My nine children called me Mommy when they were younger and now my eight grown children call me Mom. One of my daughters graduated to Heaven at age thirty-six, and I long to hear "Mom" from her when are joined together again. Sometime I dream of her as little girl and hear her call me Mommy again. It is a precious gift I treasure, and it stays with me for days.
My Sunday school children called me Miss Robin or Teacher. A long time ago, I was a police officer and I got called a lot of names I won't mention, but usually I was called Officer and eventually Detective. My grandchildren call me Marmie (or something that sounds like Marmie but I always answer). On websites I am labeled as Author, Writer, Teacher, or Mother of Nine. To my cardiologist I'm a heart patient. To my dogs I am the "Treat Giver" and "Pooper Scooper." :)
Do you feel that you know me a little better by reading a little about what others call me? That is what this class is about—getting to know Jesus better by studying his character, his qualities, and his attributes. When you have a relationship with someone, you want to know their name but also their qualities. We can build a closer intimate relationship with God by getting to know Jesus' names.
"Name" in biblical usage correctly describes the person, place, or object and indicates the essential character of that to which the name is given. 
Bible Journaling Tips
Get Organized
Be prepared and organized. Keep all Bible study tools, scissors, pencils, etc., on a specific desk, shelf, or in a crate or basket near your Bible study area. Don't be interrupted by having to stop and look for a pen in the middle of the reading.
Important: Make your preparation time independent from your Bible study time.
Get all your materials printed out and organized before your Bible study time. Keep a basket filled with your favorite adhesives, embellishments, stickers, and die-cuts, paper clips that coordinate, etc.
See the December Daily Dex Card Kit here (this is optional).
Step 1: Pray
Always begin with prayer. Remember, we are in a spiritual battle. Recognize there are spiritual forces that do not want you in God's Word. Pray against them and ask God for wisdom.
Step 2A: Read in Context
Read the verse of the day, but don't just read one verse in isolation. You don't have to read the entire book or chapter, but you should try to at least go to the first heading (usually bold) and read that passage.
For example, Day One's verse is Matthew 3:17. Most Bibles have a heading before verse 13 (see image below) which explains that this passage is about the baptism of Jesus. At a minimum, begin your reading with verse 13. If you have time for more, that's even better.
If you are new to the Bible, you can watch this video for a Bible Overview.
Take notes as you read or highlight. Listen to the Holy Spirit's prompting if you have urges for deeper study. God will lead you. Trust him.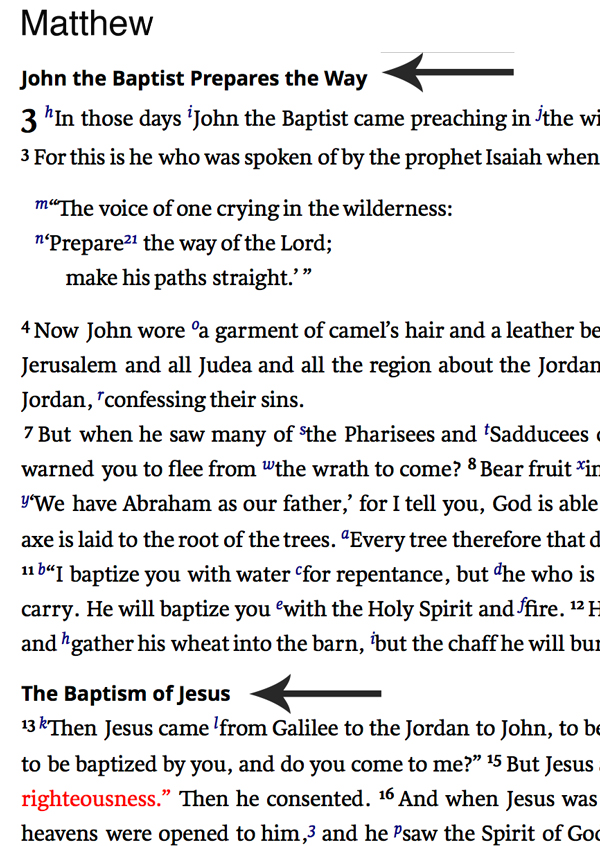 Step 2B: Read the Devotional
Come here to read the daily devotional for additional insight.
Step 3: Bible Journal
Use your favorite medium to express what you learned, on paper, dex card, notebook or in your Bible. Keep your thoughts focused on each word as you Bible-journal. Continue to pray and seek God.
Step 4: Share
Share your Bible journaling (in whatever format) in the Facebook Group. I would especially love to hear your spiritual insight. When you share what you are learning, you are encouraging each other. Respond in the Facebook Group with the hashtag #TitlesofChrist and the day.
When Things Don't Go as Planned
The best plans can and will be interrupted. You might not get a chance to do more than pray and read the daily passage, and that is fine. As long as you start your day with God, you are ahead in the game! You can Bible journal when you have more time. Focus on God and his Word; the Bible journaling is wonderful, but secondary.
Prayer
Father, Thank you for this special time with you. Give us the wisdom and understanding as we seek and study. Show us, in your timing, what you want us each to learn. Open our eyes to learn of Christ's character; show us what to do to practice his character so that we can be a light to others. Heal and purge anything in us that would block our learning. We recognize there will be a spiritual battle trying to stop us from progressing. Give us the fortitude to stand against any evil interference. Lead and guide us in all your ways. In your son's holy name, amen. 
---
Footnote
The name "Jesus" is a combination of the Greek "Iesous" and the Latin version employing the letter J. This name commonly used in Christianity did not exist until about 500 years ago. The Messiah's name is Yeshua. It's his Hebrew name, the name his mother and others called him. His name has been translated into other names, with "Jesus" probably being the most recognized.
Complete and Continue